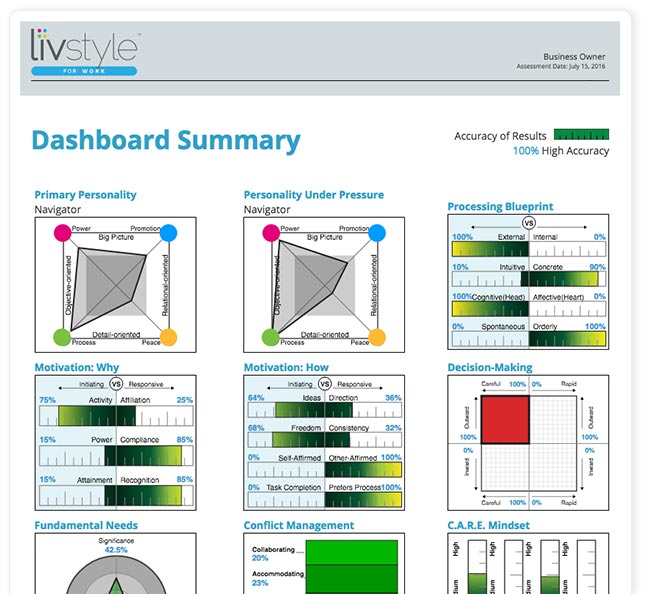 Teamwork is key to the success of any business. The Team@Work Livstyle™ Assessment was designed to help your team reach its full potential. If everyone in your workplace had the same personality, it might be easier to get things done, but you'd lose the synergy that comes from a diverse team. Wouldn't it be great if there were a way to easily view the strengths and weaknesses of your team members, and truly understand how to bring out the best in everyone?
Livstyle™ Personality Portraits hold the key to unlocking the true potential of your team while maintaining the validity and reliability you expect from such an assessment. It's a system that gives you a holistic picture of what motivates, challenges, inspires, and rewards you and your team. Empower your team through better understanding with Livstyle™
Livstyle™ assessments give you features you won't find anywhere else:
9 distinct personality dimensions built from one set of questions
Learn your primary personality type and also how your personality changes when under pressure.
How Livstyle™ Works for Your Business
Here's some of what you will learn from a Livstyle™ assessment tools:
Individual Assessment(s)
Your natural and adaptive personality
How you process information
Your pace and process of making decisions
Your fundamental needs and motivation
Your conflict management style
Livstyle™ Team Overlays shows how you and others on your team interact with each other. This exclusive feature is only found in LivstyleTM Personality Assessments, and is a powerful way to visually represent the synergies of your team.
LivStyle™ CoachShopSM is an interactive instructional session with a Team@Work Coach who will walk you through a completed assessment, so you can further understand and use this dynamic tool as you engage and grow your team. This CoachShopSM is 1 1/2 hours is length and multiple people can attend this session.
Order Now: